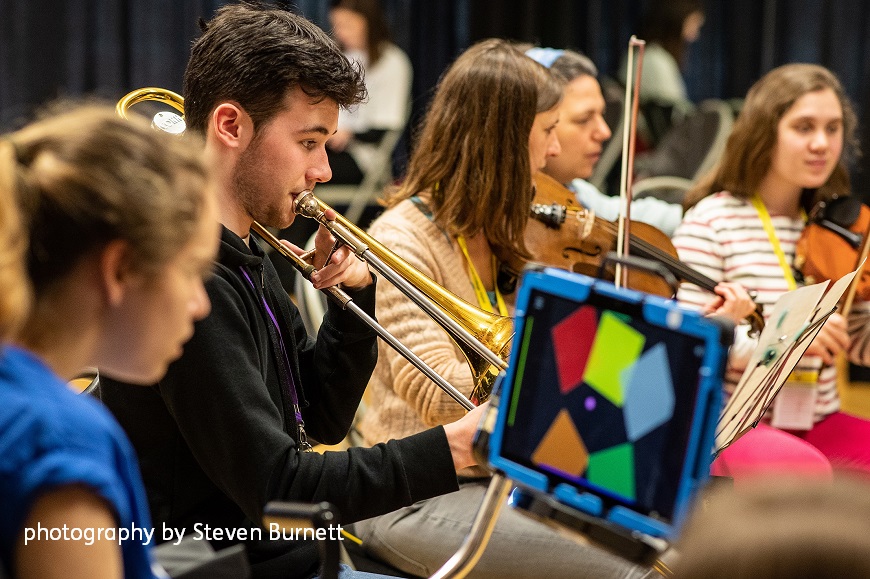 "Happy, tired… I want more!" Feedback from Clarion player Ella perfectly summed up the mood following the first National Open Youth Orchestra residential.
For three days and nights in April, NOYO musicians from around the country gathered at the National Star College in Cheltenham to rehearse and socialise with members from other regions.
It was impressive how quickly they came together, collaborating and supporting each other. The short clip below was taken during the first ever group rehearsal with NOYO's Bournemouth music leader Sam Mason conducting "Mattachins".
NOYO musicians switched between full group and sectional rehearsals each day. They got out of their comfort zone, learning new compositions, volunteering to lead warm-up pieces and sharing ideas about different ways in which musical parts could be played.
It was hugely rewarding for the audience to hear them warm up to "Mattachins", perfect "Timelapse" by Michael Nyman and improvise around "Wittgenstein's Chorale" by Ben Lunn. Other pieces featured in the repertoire for the residential included "Day One" by Liam Taylor West, "Caverns" by Lucy Hale and Alexander Campkin's "Hoping".


Olivia Funnell, ABRSM Partnerships Manager felt "it was a privilege to experience such a focused, fun and familiar youth orchestra rehearsal. The young musicians and their musical ideas are right at the heart of the creative process and their ensemble work will provide leadership for the wider music sector in the years to come."
Between rehearsals, the focus shifted from musical collaboration to competition, the NOYOlympics providing plenty of laughter. During the Boccia tournament, Ella stole the show with her very professional skills and high-tech, mega Boccia ramp. Sports day saw water balloons being tossed, eggs being broken, skittles falling and Sherwin smashing the record for the wheelchair Grand Prix. The Photo Scavenger Hunt also delivered on the fun, especially the 'Take a photograph of something gross' challenge which shocked the judges, with photos too disgusting to show!
The NOYOlympics closing ceremony rounded off a brilliant few days with some stunning karaoke performances. Jamie's rendition of Come Out and Play by Billie Eilish was especially moving.


The picture below is of us on the last day, "motivated, inspired, happy" in Tenor horn player Torin's words.
Films produced by NOYO musicians during the residential are currently being edited, so watch this space!
With big thanks to photographer Steven Burnett for the feature image of the orchestra, and for capturing the first day of the residential. Other pictures are by Paul Blakemore.