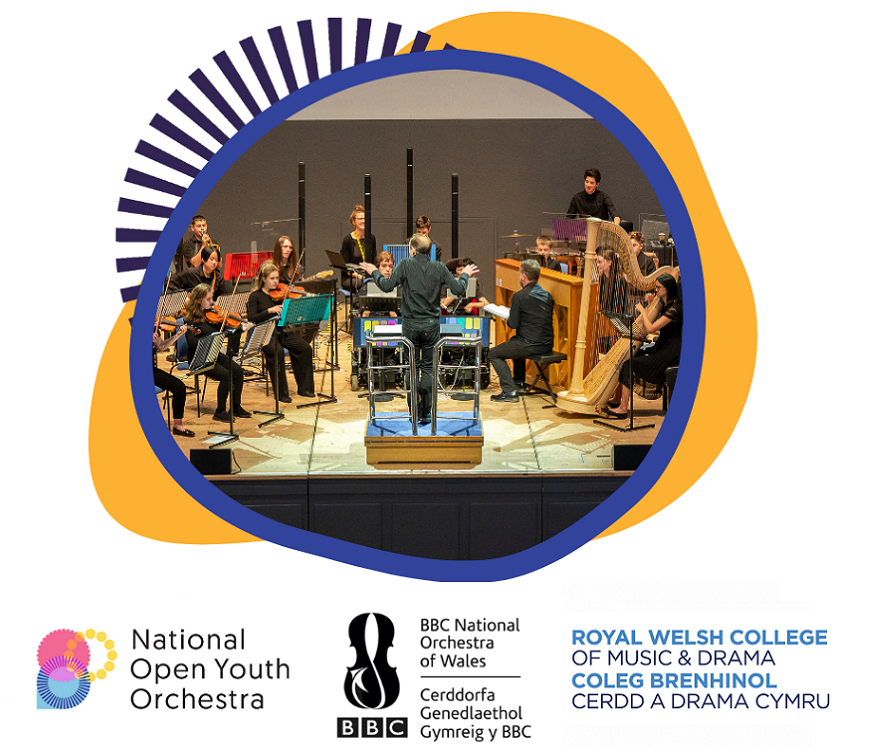 Croeso i gariadon cerddoriaeth! (Welcome music lovers!)
Applications to audition for the Cardiff NOYO Centre will open on 1st March 2023. Rehearsals will take place in Cardiff from September 2023, but talented 11-25 year-old disabled and non-disabled musicians from further afield will be warmly invited to apply – as long they can make it to the capital for monthly rehearsals!
Participation in the National Open Youth Orchestra is free. Cardiff NOYO Centre members will be supported to realise their musical potential through group rehearsals and one-to-one tuition. They will also come together with musicians from other NOYO Centres in London, Bristol, Birmingham and Bournemouth for a yearly residential, and whole ensemble concerts from spring 2024.
Kevin Price, Deputy Director of Music at RWCMD said: "I felt so privileged to be there for the National Open Youth Orchestra's first ever concert in Milton Court this year. The musicality, sincerity and expressive power bowled me over. NOYO is a fantastic opportunity for young musicians in Wales to be part of, showing us how diversity can inspire exciting new musical possibilities. Our partnership aims to address and challenge the systemic barriers that so many young disabled people face and to offer the musical opportunities available to their non-disabled peers through instrumental tuition and ensemble training."
Beatrice Carey, Education and Community producer for BBC NOW said: "As the UK's first Music City, music is at the heart of Cardiff's future. The NOYO Cardiff Centre will promote an inclusive vision, inviting talented young disabled and non-disabled musicians to rehearse and perform together. NOYO has already been successfully running in England and we are thrilled to enable more Welsh musicians to join NOYO and develop their skills. Working closely alongside RWCMD means that we can begin to build a stronger progression route for young disabled people with exceptional musical talent and potential, and for those with career aspirations in the music industry.''
Barry Farrimond-Chuong MBE, CEO of Open Up Music, the charity behind NOYO said: "Musical talent and potential are everywhere, but opportunities for young disabled people to progress in music are not. We are extremely excited to be working with Royal Welsh College of Music & Drama and BBC National Orchestra of Wales to expand the National Open Youth Orchestra and open up music to more young disabled musicians."
Could this be the orchestra for you? Or do you know of talented 11-25 year-old musicians in Wales?
NOYO is for musicians who already play electronic or acoustic instruments with flair, but also for young disabled people with musical potential. It's useful to read last year's Applicant's Information Pack to get a good idea of who NOYO is for. You can also watch the videos about auditions in our Apply section, and the stories of saxophonist Jamie, harpist Holli and LinnStrument player Sally.
We can't wait to meet Cardiff NOYO Centre applicants. Until then, please tell everybody about this new opportunity in Wales!
June 2023 update: Read about the newly appointed Cardiff NOYO Centre Music team